A Small Library with a Big Impact
The Library is Now Open to the Public!
We are excited to welcome the public back to the library!
We will require patrons to conform to best practice COVID prevention including hand sanitization and mask wearing at all times.  The library will continue to sanitize high touch surfaces.
100th Anniversary Celebration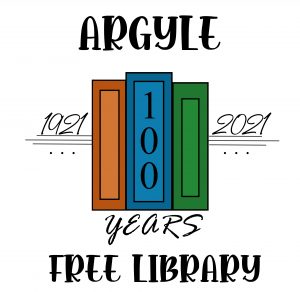 The Argyle Free Library is celebrating its 100th anniversary!
Come take a look at our Memory Scrapbook of pictures of Argyle Library events through the past 100 years. If you have some to add, we would love to include them. Photos donated will be scanned and returned.
We also have beautiful new Limited Edition Library Cards with a beautiful 100th anniversary logo designed by Julia Bolio, a student at Argyle Central School.
Fresh & Free Produce At Argyle Free Library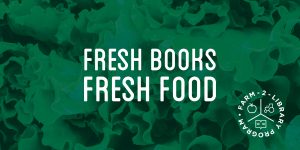 In conjunction with the Southern Adirondack Library System and the Fresh Food Collective, Argyle Free Library will now be offering the community free, fresh produce on a weekly basis! Come into the library to pick up your produce from our new mini fridge located at the circulation desk. We ask that you only take what you will use.
COVID Safety Policies
We ask that patrons continue to return items to the outside book drop only.
Mask wearing and social distancing when in the library is required.
Patrons may use the printer/fax machine/copier and the computers. They will be sanitized between uses.
If you have any questions please reach out to us at arg-director@sals.edu
 or by calling the library at
518-638-8911
.