A Small Library with a Big Impact

The Library has 12 beautiful chairs painted by local artists available for silent auction.
You can visit The Library or bid online at https://argylefreelibrary.betterworld.org/auctions/afl-art-chair-auction
Argyle Free Library Art Chair Auction by Argyle Free Library
argylefreelibrary.betterworld.org
Bidding will end on May 28th at the annual plant and bake sale. The proceeds from this auction will help us achieve our goal of renovating the library circulation desk.
We are thankful for the wonderful support of our community!
Fresh & Free Produce At Argyle Free Library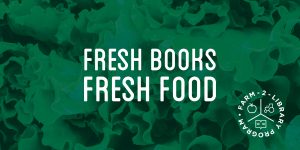 In conjunction with the Southern Adirondack Library System and the Fresh Food Collective, Argyle Free Library will now be offering the community free, fresh produce on a weekly basis! Come into the library to pick up your produce from our new mini fridge located at the circulation desk. We ask that you only take what you will use.