Find a book on the library catalog
How To Do A Keyword Search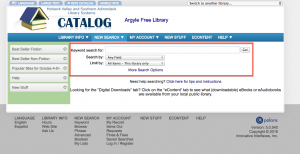 1.  Click the Library Catalog link in the main menu.
2.  Click Keyword on the Search menu.
3. Type the text to search for in the Keyword search for box. See Typing Search Text – Keyword Searches.
You may see suggested search terms as you type. You can ignore the suggestions and continue to type your search term, or click a suggestion to search for the suggested term. Click Hide Suggestions if you do not want to see search suggestions. Click the small arrow in the search text box to show the suggestions after they have been hidden.

4. Click the Search by arrow symbol, and select a search field from the list: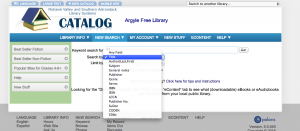 • Any Field – All the indexed information fields
• Title – Title fields
• Author – Author fields
• Subject – Subject fields
• General notes – Notes fields
• Publisher – Publisher field
• Genre – Forms or types of materials, such as science fiction, romance, biography, bibliography, or large type books
5. To limit your search, click the arrow symbol in the Limit by box, and select an option from the list. Example: If you want to find only DVDs, select DVD in the Limit by list.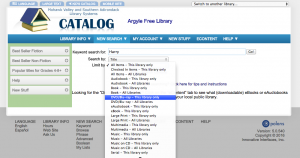 6. If you want to set additional limits, follow these steps:
a) Click More Search Options.
b) Select the settings you want. To select several consecutive items in a list, hold down the SHIFT key as you select the items. To select several items that are not listed together, hold down the CTRL key as you select the items.
You can also exclude items from a search. Select them from the appropriate list, and click the Exclude box below the list.
Important:
Search options retain their settings until you reset them or go to the home page. The highlighted message Options have been set on the search bar indicates that search options are set to values different from the usual values.
7. To search a database other than the library's catalog, or select multiple databases to search:
a) Click Select Databases and check the databases you want to search.
b) Click Set Selected Databases.
c) Click Close.
Your selections remain until you reset them. To reset the search databases, click Select Databases again. Then click Reset and Close.
8. Click Go.
• If the search is successful, you see your search results.
• If no matches are found, you see a message. You may also see a Did you mean suggestion. You can click the suggestion to search for the suggested term.
9. To see more information about a title in your search results list, click the title or cover image.
10. To filter your search results or do related searches, click a Narrow or Related option at the side of the page.