Happenings at AFL
How to Apply to College Event Cancelled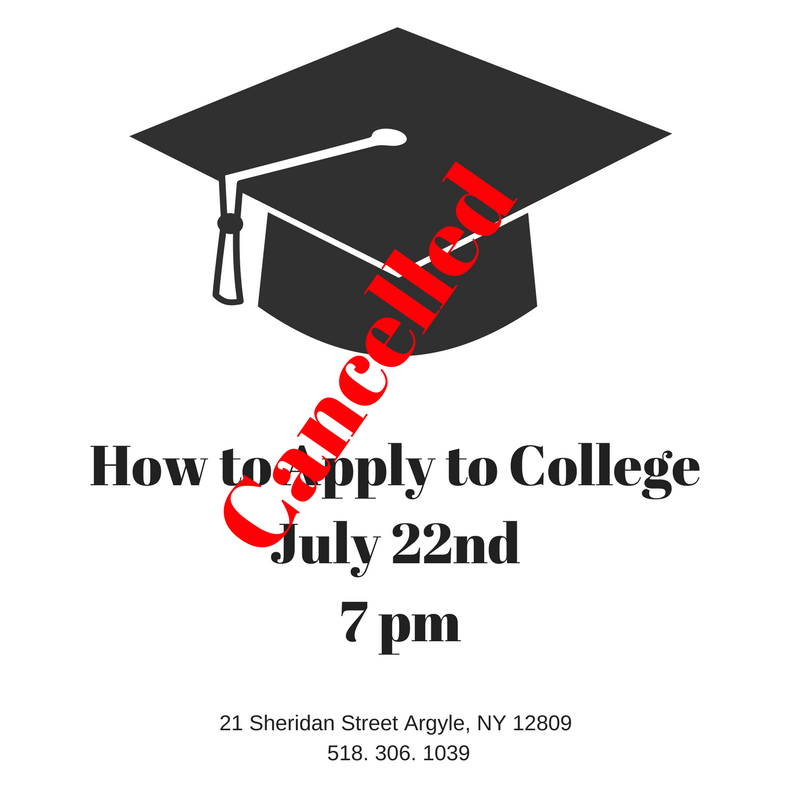 We had to cancel our "How to Apply to College" event scheduled for July 22nd because we had no one sign up and no one tell the director that they were coming.
This brings us to our second topic: a library program attendance and cancellation policy. Because most of the people who help us with our programs are volunteers, some who live an hour away or more, it's not fair to them to ask them to drive all of the way to Argyle for a program that no one comes to.
Therefore, from now on we will require at least THREE people to sign-up and confirm that they are coming to an event 24 hours before it takes place. If we do not have three people, we will reschedule the event for a better time.
. Check back here or on our Facebook page for more information! 
Announcing the prizes for this year's summer reading program!
Announcing our summer reading prizes! Teens have a chance to win a Fujifilm Polaroid Camera Kit, a Kindle, or a tablet! Kids ages 6-12 have a chance to win a VW Camper Van Tent, walkie talkies, or a Nintendo DS!
Teens can earn prizes by completing tasks on the scoresheet. You need 100 points to enter the raffle. The teen with the highest score at the end of the summer will get their choice of first prize!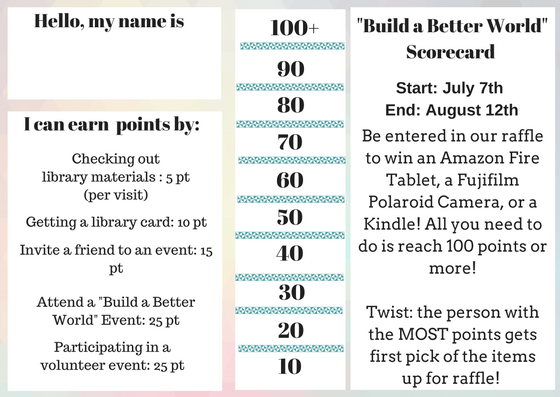 Kids 6-12 just have to reach their Read to Feed goal to be entered in the raffle to win a VW Camper Tent, walkie talkies, or a Nintendo DS.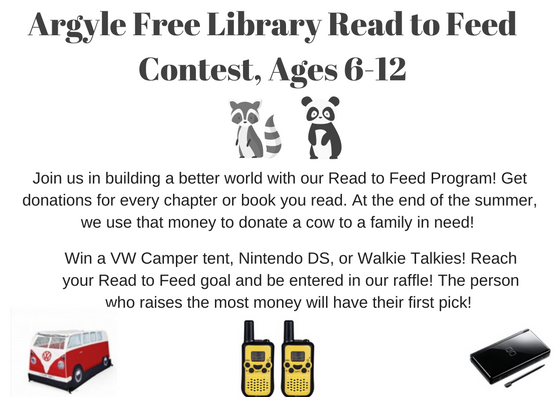 Curious about our plans for the summer this year? Check out our summer program page! 
You can also find it in our "About" section on our website. 
Special Announcement: Community Support
You may have seen a heartwarming outpouring of support on Front Porch Forum for our Muslim community members this week. It's important to us that Argyle Free Library shows our support as well. Libraries thrive on diversity of opinion and shared knowledge. We at AFL strive to make the library a place where diversity is respected and welcome for our community as a whole.
We would also like to mention that we have a meeting space. Anyone is welcome to use the space to discuss issues that are important to our community. Or, if you just want to hang out and talk to one another, we're fine with that too. Please contact us at arg-director@sals.edu or call 518-638-8911 to reserve the meeting space.