A Small Library with a Big Impact
The Library is Closed for Browsing
The Argyle Free Library will be closed for browsing but OPEN for curb-side pickup as of Saturday December 19th.
Due to a rising number of Covid 19 cases in the community, we will be closing our doors to the public but we encourage patrons to take advantage of our curb side pickup option.
Curb Side Pick Up Procedures :
You can reserve books through the online library catalogue at or call us during our regular open hours to reserve a book.
2. We will call you when your books are available and set up a time for you to come and pick them up from our contactless pick up box (cooler on the ramp).
3. You drive up, grab your books, and enjoy them!
4. You drop your books in the drop box as usual.
Call the library or contact Faith at fstjohn@sals.edu with any questions.
We hope everyone in the community stays well and healthy and that we can re-open again soon!! We will miss your faces!
100th Anniversary Celebration
The Argyle Free Library will celebrate its 100th anniversary in February 2021. In anticipation of that event, a committee has been set up to plan events consistent with pandemic restrictions. We are planning on creating a "MEMORY SCRAPBOOK" of pictures of Argyle through the past 100 years. From November 1 through January 31, we are looking for your pictures of Argyle's past. They will be scanned and returned if desired.
We also plan on creating a "TIME CAPSULE" to be housed in the library, to be opened in 50 years. We solicit your ideas of items to be included in the capsule. Items must be non-perishable and received by January 31.The committee will select items from those submitted to be included as space will be limited.
Please send or bring your pictures and "capsule" ideas/items to the Library. Volunteers to help with these and other projects are welcomed. For more information call the library at 518-638-8911.
Fresh & Free Produce At Argyle Free Library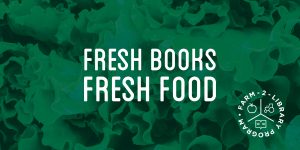 In conjunction with the Southern Adirondack Library System and the Fresh Food Collective, Argyle Free Library will now be offering the community free, fresh produce on a weekly basis! Come into the library to pick up your produce from our new mini fridge located at the circulation desk. We ask that you only take what you will use.
COVID Safety Policies
We ask that patrons continue to return items to the outside book drop only.
Mask wearing and social distancing when in the library is required.
Patrons may use the printer/fax machine/copier and the computers. They will be sanitized between uses. We ask that patrons do not "browse the stacks" at this point in time. If you would like a specific item please let staff know and they will get it for you with gloved hands.
There will be book displays with printed summaries so patrons can "grab, checkout, and go". We are trying to limit contact with library items as much as possible during this time. We are also still offering curbside for those that do not feel comfortable coming into the library.
Thank you for understanding!
If you have any questions please reach out to us at arg-director@sals.edu
 or by calling the library at
518-638-8911
.