New Book of the Week: College Preparation Books
In preparation for our teen summer program, which will focus on college preparedness and volunteer opportunities, we got in a bunch of college prep books!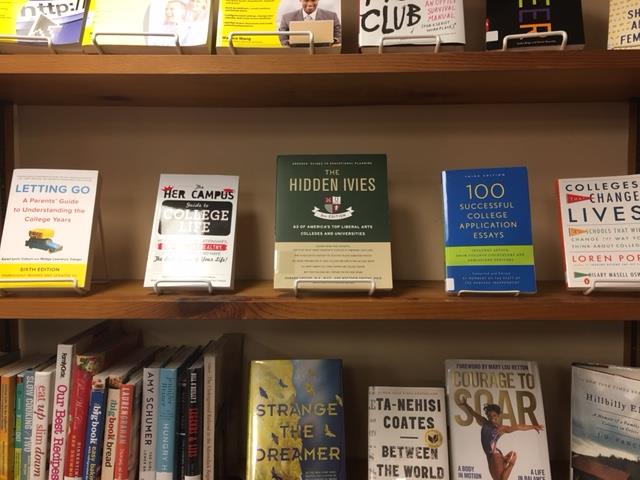 "Completely revised and updated with a dozen new colleges and universities, the essential guide students need to help them choose and gain admission to the outstanding schools that fit them best.
Based on Howard and Matthew Greene's years of counseling experience and research, The Hidden Ivies is an invaluable, in-depth look inside sixty-three renowned academic institutions. These private colleges and universities offer students a broad liberal arts education that will help them build a strong foundation for the rest of their lives. The Greenes help families understand what makes an Ivy League college so desirable, and why these Hidden Ivies (some less well-known than others) offer an educational and personal experience to rival that found on Ivy campuses.
In this fully revised and updated edition—featuring new institutions, including Dickinson College, Fordham University, and Southern Methodist University—the premier educational consultants and authors of Making It Into a Top College take you school-by-school, revealing:
Why these are unique institutions of exceptional merit
What criteria to use in evaluating different programs
The admissions requirements for each selective school
How to approach the selective college admissions process today
Student perspectives on their college experiences
The value of pursuing a liberal arts education
Choosing a college is one of the most important decisions every student—and their parents—will ever make. With costs rising and so many to choose from—and the competition for acceptance more intense than ever before—The Hidden Ivies offers invaluable insights and advice to help every student choose and apply to the right school: the place where they will thrive, academically, socially, and personally *
*Review taken from Amazon
---
"From dating to internships—it's everything you need to know about college.
Get ready for the best years of your life! Stephanie Kaplan Lewis, Windsor Hanger Western, and Annie Chandler Wang, Harvard-grad entrepreneurs and co-founders of Her Campus, the #1 global community for college women with 26+ million monthly users and chapters at 340+ colleges, are lending their collegiette expertise to the book world with this fresh and savvy take on a college girl's survival guide.
Her Campus's college guide is bursting with insider tips to help you navigate classes, relationships, and all your extracurriculars—including parties and Greek life—and much more. Whether you're a seasoned upperclassman or are starting freshman year in just a few months, you'll learn how to:
Bond with your roommate and set ground rules for your new space
Beat the Freshman 15 without having to give up dessert
Snag a date with the cutie from your Lit class
Cope with stress and anxiety—even during finals week!
Score jobs and internships that will help you transition into post-collegiette life
This book will also give you the lowdown on campus safety so you can enjoy all that college has to offer while avoiding the unfortunate scary parts that sometimes come with it. Complete with fun checklists and worksheets to help you carry out HC's essential advice, The Her Campus Guide to College Life shows you how to make the most out of your experience—in and outside the classroom."*
Review is taken from hercampus.com 
---
"Choosing the right college has never been more important—or more difficult. For the latest edition of this classic college guide, Hilary Masell Oswald conducted her own tours of top schools and in-depth interviews, building on Loren Pope's original to create a totally updated, more expansive work. Organized by geographic region, every profile includes a wealth of vital information, including admissions standards, distinguishing facts about the curriculum, extracurricular activities, and what faculty say about their jobs. Masell Oswald also offers a new chapter on how students with learning disabilities can find schools that fit their needs. For every prospective college student searching for more than football and frat parties, Colleges That Change Lives will prove indispensable." *
---
"These are the essays that helped their authors gain admission to Harvard, Yale, Brown, Columbia, Wellesley, Pomona, and other outstanding schools—followed by invaluable comments by experts in admissions, placement, and college counseling at some of the best learning institutions around the country. This helpful guide includes:
100 complete essays with professional commentary
Examples of essays on common topics (family background, athletics, work experience), as well as the more offbeat
Essays on the immigrant experience by foreign-born students
A section of drawing and cartoon essays
Insider advice from a Princeton Dean of Admission
And more
Compiled by members of The Harvard Independent, the weekly newsmagazine of Harvard University, this revised and updated edition is an invaluable resource for students who want to write the best possible essay—and improve their chances of admission to the best possible school." *
---
"The sixth edition of this classic parents' guide and college orientation staple has been thoroughly revised and updated to reflect the realities of college today.
For more than a decade, Letting Go has provided hundreds of thousands of parents with valuable insights, information, comfort, and guidance throughout the emotional and social changes of their children's college years—from the senior year in high school through college graduation.
Based on research and real life experience, and recommended by colleges and universities around the country, Letting Go, Sixth Edition, has been updated and revised, offering even more insightful, practical, and up-to-date information. In this era of constant communication, this edition tackles the challenge facing parents: finding the balance between staying connected and letting go.
When should parents encourage independence?
When should they intervene?
What issues of identity and intimacy await students?
What are normal feelings of disorientation and loneliness for students—and for parents?
What is different about today's college environment?
What new concerns about safety, health and wellness, and stress will affect incoming classes?
A timeless resource, Letting Go, Sixth Edition, is an indispensable book that parents can depend on and turn to for all of their questions and concerns regarding sending their children to college." *