We're Hiring!
The Argyle Free Library is looking for a new director!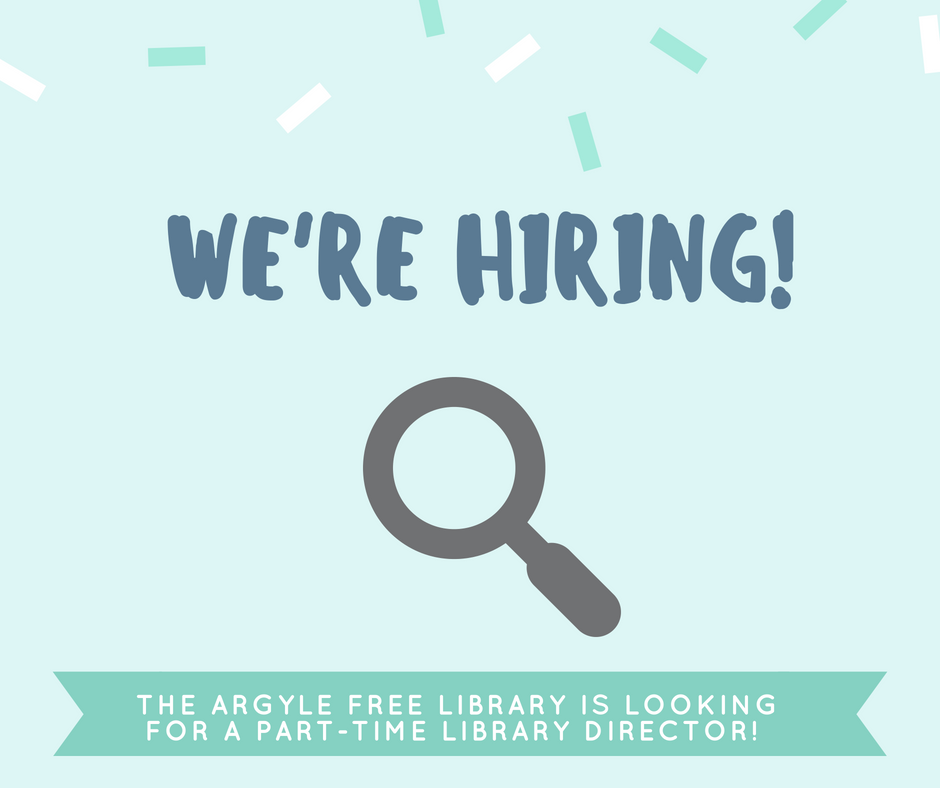 Click here to download a copy of the job description, or see below:
Argyle Free Library – Library Director
Job Description
The Library Director serves as the Chief Executive Officer of the Library and is responsible for the administration of all library functions within the goals, guidelines and policies established by the Library Board of Trustees.  This responsibility includes the organization and dissemination of information and services through the effective utilization of library resources.  The Director is also responsible for the facilities, financial management and personnel of the Library, under the governance and oversight of the Board.
The Director is expected to provide a leadership role within the library, the community, and the library profession.  The Director serves as the official representative of the Library.  This is a part-time position, 20 hours per week.
Minimum Qualifications:  MUST have two years of college study in any field, per NY State law
Desired Qualifications:  Library work experience; experience coordinating with local organizations to develop community programs; comfortable with maintaining library website and developing library presence on other media, such as Facebook and Twitter; some management experience
Responsibilities:
General Administration and Financial Management

Make policy recommendations to the Board of Trustees
Implement policies and procedures
Submit a timely proposed budget
Monitor expenditures
Provide monthly financial planning information to assist in establishing both short term and long term priorities
Provide orientation and resources to new Trustees and Employees
Manage employees, provide training for employees as needed, and coordinate their schedules
Direct the maintenance of the library building and grounds, and recommend future space needs and reorganization of library areas
Establish and maintain a staff manual of library procedures
Provide leadership, take initiative, solve problems, and effect change through development and encouragement of staff
Research community needs, and plan and implement programs to support these needs
Attend all Board of Trustee meetings, and ensure Trustees are aware of Southern Adirondack Library System (SALS) and other communications in a timely fashion
Develop and maintain the library website and social media
Evaluate the effectiveness of the library collection and order materials (books, periodicals, movies, etc.) to support community needs
Maintain an orderly and usable library catalog, in accordance with current library and SALS requirements
Provide customer service, build relationships with community organizations, and provide an environment that is aligned with that of the Board and AFL policies.
Other duties, as assigned.
Work and Physical Requirements

Duties require periods of standing, sitting, walking and carrying weight up to 30 pounds
Public speaking
Provide own transportation to work-related meetings, workshops, conferences, etc.
Occasional Saturday and evening hours as needed (board meetings, special events, etc)
To apply: Please send cover letter and resume to Argyle Free Library Personnel Committee, PO Box 238, Argyle, NY 12809
Application Deadline: July 21st, 2018